The Pros and Cons of 8 Different Office Snack Services
By Jaclyn Hoffman
Providing in-office snacks is a great way to enhance your employees' lifestyles. Not only is it a way to remind your employees that the company cares for their wellbeing, but it helps employees be more productive and cuts down on time spent traveling outside the office for snacks. However, stocking your break rooms can waste both time and money. Today, there are an abundance of office snack services, but it can be difficult to choose which one is right for you. We've broken down several popular snack delivery services to help you determine what will work best for your company.
1. SnackNation
SnackNation was founded in Los Angeles in 2014 and has since provided snacks to companies including Microsoft, Wayfair, and MailChimp. The company's goal is to provide healthy snack options at a low price. Each box starts at $249 and contains 150 individual sized snacks. Snack options include protein bars, jerky, chips, nuts, and granola.
Pros: The boxes provide a wide variety of snacks, giving your employees numerous options when they need an afternoon snack. SnackNation's Snack Concierges (account managers) are dedicated to helping you cater your box to your employees' likes and dislikes. Pricing includes shipping and set-up, and you are not required to sign a contract, though you can sign up for a contracted, monthly membership if you prefer. Snacks can be delivered at intervals convenient to your company, and you'll save 40% off retail prices. SnackNation also donates 10 meals to support hunger relief for every box purchased. Shipping is free in the continental United States.
Cons: The minimum price of $249 can be a hindrance to smaller companies with smaller budgets.
For more information, contact SnackNation and try a free sample box!
2. NatureBox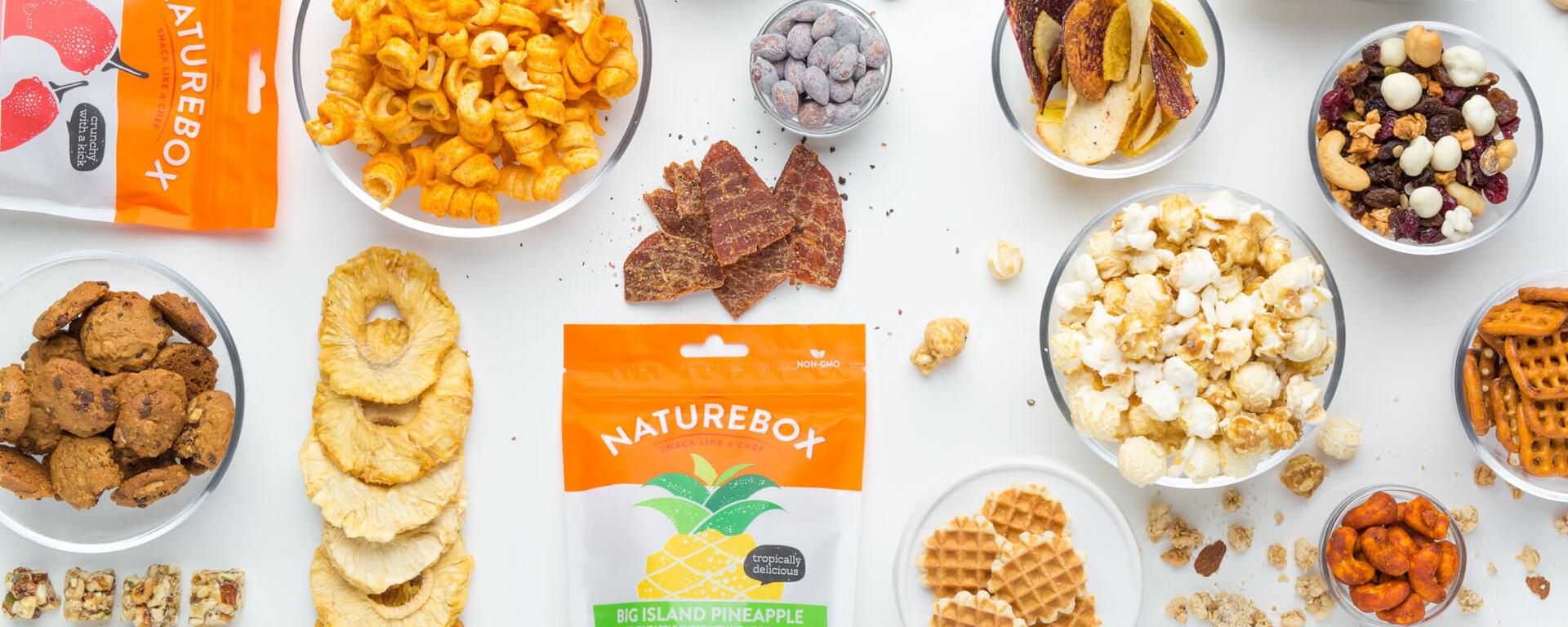 NatureBox is a snack service dedicated to providing healthy options for your employees. NatureBox's office snack service provides unlimited monthly snacks and is priced per employee. Companies like Visa and Apple have used this subscription service.
Pros: With pricing as low as $12 per employee, NatureBox can be a great option for smaller companies who are looking to provide diverse, healthy options for their employees. Work with an account manager to choose from 50 different snack options each month. The plan is unlimited, so if you run out of snacks, the company will deliver more.
Cons: Naturebox's snacks aren't for everyone. While they do have chips and cookies, many of their products are dried fruits and health foods, and they do not offer brand name snacks. While they do have 50 snack options a month, companies might find the options limiting compared to other snack services.
To learn more and to try a free sample, contact NatureBox.
3. Instacart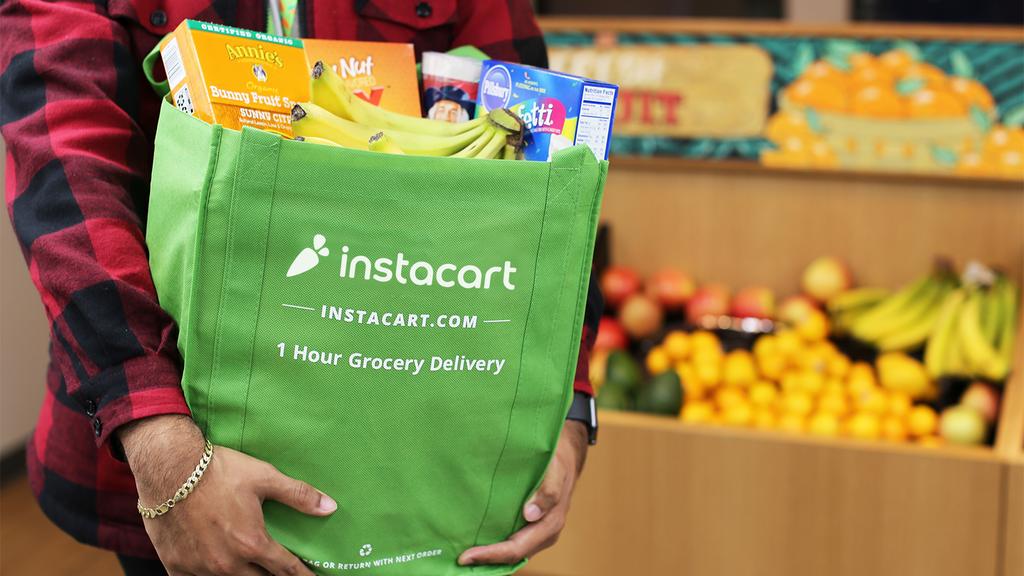 Instacart is an online service that does your grocery shopping for you. After choosing your items online and paying for them, your groceries are picked up from local stores and delivered in as little as an hour.
Pros: With Instacart, you're able to choose exactly what you want in exactly the quantity you want. Because items are being sourced locally in real time, you're able to order fresh produce and other perishable items. Instacart has coupons that are automatically applied to qualifying products, and the minimum order is only $10.
Cons: Because Instacart is the equivalent of grocery shopping, it does take more time to search and choose your items. Instacart does not honor in-store sales, so items can sometimes be more expensive through the service than in store. Various fees are attached to the price of your order (delivery fees, tip, a "Busy Pricing" surge fee depending on the time of day). Instacart is not an office-specific service, so there is no system in place for set weekly/monthly deliveries.
Try Instacart here.
4. Eat Club
Eat Club is primarily a lunch service that allows employees to choose between a variety of meal options online. The service allows for an easy, personalized lunch delivery for entire offices of 20 to 1000+ employees. Eat Club also has two different options for snack services: companies can either choose to have a catered snack pantry, or employees can create their own snack boxes for the week.
Pros: Whether you choose the lunch or snack option, Eat Club is focused on employee choice and satisfaction. With multiple lunch options catered to company dietary restrictions, every employee will find at least one meal to their satisfaction. Should you choose to go the individual snack box route, employees are able to choose exactly what they want for weekly snacks, and the snacks are delivered in labeled boxes for each employee. The snack pantry option is curated, delivered, and monitored by an account manager who makes adjustments based on consumption rates. Snacks do include fresh produce and perishable items.
Cons: Currently only available in San Francisco, Los Angeles, and their surrounding areas. Substitutes are not currently available, e.g. you cannot request to have a different cheese on your sandwich.
For pricing and more information, contact Eat Club.
5. WorkPerks
WorkPerks is an office snack service company that is dedicated to providing a positive snacking experience for both employees and clients. With a variety of size options available for delivery monthly or bimonthly, there are options available to suit your company size. WorkPerks also offers packages for client meetings or client gifts.
Pros: WorkPerks has snack box options ranging from 75 servings to 450 snack servings, and they have a handy calculator to help you decide which box is right for your company based on the number of employees and your budget. Whichever option you choose, the snacks are delivered in a display-ready boxes. The boxes include a wide array of snacks, with new variety in each delivery based on your preferences. With an easy online ordering system, you can get WorkPerks delivery set up without speaking to an account representative.
Cons: Because you can purchase a subscription online directly (i.e. without an account manager), the snack boxes might be less curated than other snack services at the same price point.
To place an order for WorkPerks or to request a free sample, visit their website.
6. The FruitGuys
The FruitGuys was founded in 1998 and is the #1 fruit delivery service in the US. They provide both fresh fruit and healthy, clean-ingredient snacks to your office. With both counter-ready tray options and case options for snacks and fruit, there's something available for every sized company.
Pros: Perhaps the biggest pro to the FruitGuys is that they, as you'd expect, provide fruit. Most of the other snack services provide only packaged snacks, but the FruitGuys has options available for both. Trays of fresh fruit start as low as $27, and the fruits change week to week depending on what is locally in season. You can set up daily, weekly, biweekly, or monthly deliveries to your office.
Cons: Beyond fruit and nuts, it's unclear what other snacks they provide. Shipping charges may apply outside of their main hub areas.
For more information, contact the FruitGuys.
7. Amazon Prime Pantry/AmazonFresh
Both Pantry and Fresh are services run by Amazon with different goals. For Pantry, Amazon Prime members pay $5 for shipping and are able to fill a large box with products that fall under the Pantry: food, drink, cleaning supplies, paper products, and more. AmazonFresh allows you to order produce and fresh ingredients as well as frozen foods.
Pros: For smaller companies that already have an Amazon Prime membership, Pantry/Fresh are great options. Pantry offers plenty of snack items in bulk at low prices, and if you're responsible for stocking your office with toilet paper, paper towels, or cleaning supplies, adding those to your Pantry box is well worth it. AmazonFresh has great fresh food options, especially now that Amazon owns Whole Foods.
Cons: For Amazon Pantry, you pay $5 for each box you fill. As you add items to your box, it lets you know what percentage of your box is filled. If you need to order a few items quickly, or conversely, need to order in bulk beyond the box size, Pantry might not be the best option. AmazonFresh has a $14.99/month fee on top of your Prime membership, so for fresh groceries it's not the cheapest option unless you order frequently. It also has a $40 minimum fee. Neither service is geared specifically to offices, so it will require time and energy to choose specific items for your office.
For more information, see Amazon's website.
8. Jet
Like Amazon or Instacart, Jet is another service that allows you to choose specific grocery items at low prices. With offerings from food to cleaning supplies to decor and electronics, Jet is a great one stop shop for smaller companies with diverse needs.
Pros: No membership is required, and Jet offers free shipping after you hit $35. There are a lot of promotional coupons available on the site, and they offer most major brand names. If you know exactly what you're looking for, Jet is a great option. They offer 2 day shipping and have an "Easy Reorder" button once you've registered and built a cart, so if you're looking to place the same order each month, you can do so with the click of a button.
Cons: There are no fresh foods available through Jet, and you have to know what you're looking for. Because their site is so diverse, it might take longer to find what you're looking for than other services.
For more information, visit Jet.com.
Bonus: Speaking of office snacks, consider an office beverage subscription service.
Bevi is a smart water cooler that provides still, sparkling and flavored water on demand. Learn more here.