Future of Hospitality: Sustainable Hotels
It is no secret that consumers are becoming more conscious of the long term environmental impact of their purchases. This is true for a myriad of industries including the automotive industry with people looking to replace gas and diesel engines with electric ones, as well as in our food system where people are using plant-based substitutes for meat and dairy products. All signs show that this conscious-consumerism will soon become pervasive across all markets and it's time that the hospitality industry jump on-board. Not only will this allow the retention of eco-conscious customers, but it will also bring new travelers into their buildings, help reduce harm to the environment, and ultimately benefit the bottom-line. 
There are so many different decisions that a facility manager or owner of a hotel can make in order to increase hotel-wide sustainability: reducing single-use plastics, switching to LED light bulbs, installing solar panels, providing carpooling options for hotel staff, and so on. Already, 54% of travelers are saying they would use less single-use plastics while traveling. But the infrastructure in the hospitality and tourism spaces were not built on the idea of sustainability in the past, and so consumers that attempt to be more eco-friendly on vacation are not often enabled to do so due to the decisions of the hotels they stay in and the activities in which they partake during their trips. Some "activist travel companies", like Responsible Travel, are springing up to make travel decisions easier for those consumers that are mindful of their carbon footprint. We don't see this trend reversing anytime soon, and see this as an amazing opportunity area for the hospitality industry. 
Some innovators in the hospitality space are providing great examples of the small steps that hotels and hostels can take to make their operations more sustainable. Let's take a look at what they're up to and how you can enable environmentally-minded travelers to stay with your hotel: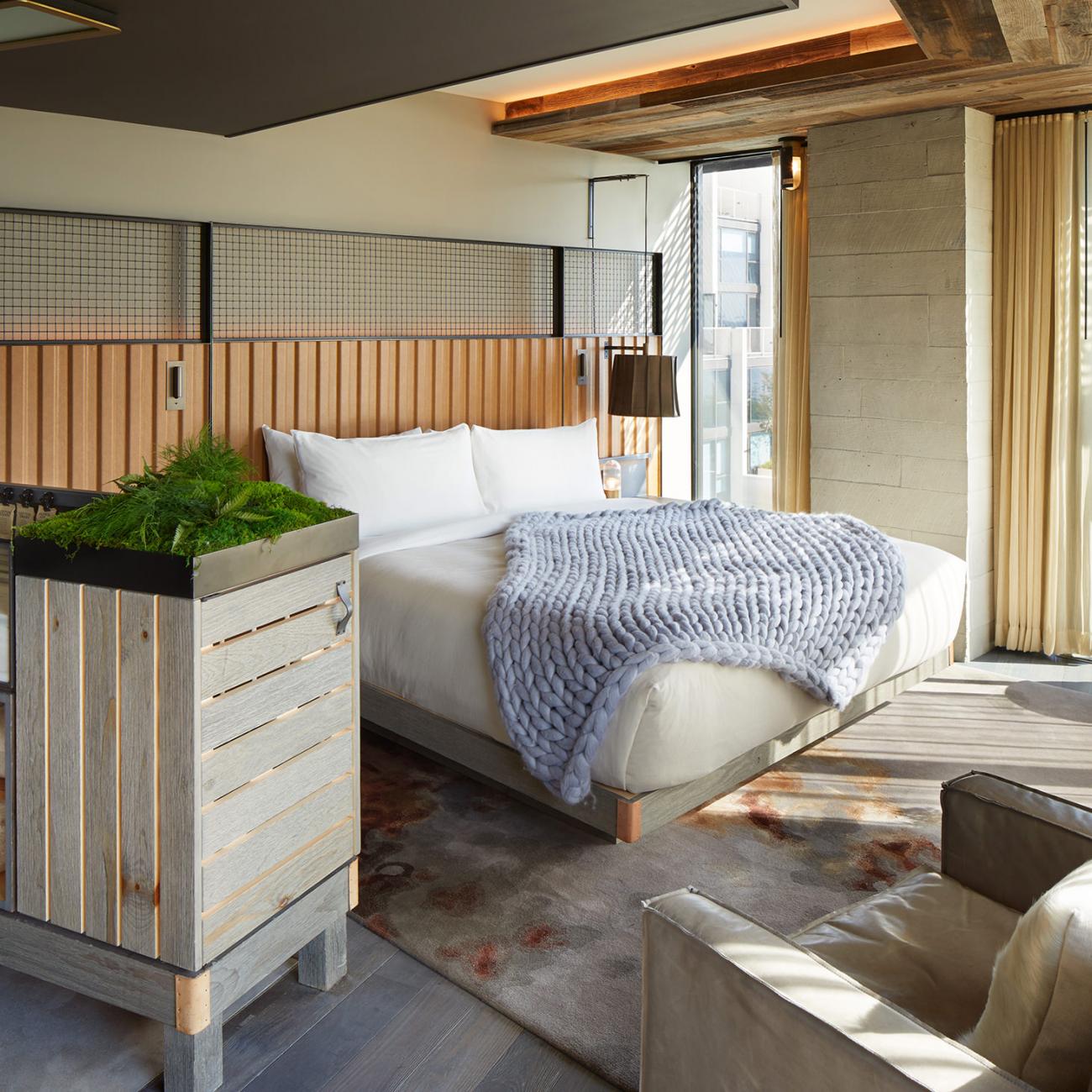 Luxury Sustainability: 1 Hotels Making Sustainability Sexy
Often people believe that investing in sustainability for a hotel will come at the cost of beauty and amenities, but the 1 Hotel chain has proven this to be utterly false. Barry Sternlicht, CEO and Chairman of 1 Hotels, is attacking sustainability as a design problem. In regards to their design, Sternlicht says "I wanted to capture the beauty of nature in a hotel and commit to safeguarding it as best I can, a responsibility that I believe we all share. It's 1 world." With help from partners like the Leonardo Dicaprio Foundation and Oceanic Global, 1 Hotel's has injected eco-consciousness throughout  its hotels and offices. Each hotel is packed with living plants and many of the buildings' materials are recycled such as wooden chalkboards found in guest rooms. The company has dedicated full workdays to volunteering and advocating for environmental causes. And 1 Hotel's is also committed to reducing their footprint by initiating a plastic waste reduction program and using greener products in their guest rooms such as organic sheets. 1 Hotel's is doing a superb job at providing the example that a hotel does not need to lose its image and its beauty in order to make choices that are better for the environment and their visitors. 
Marriott International: 360 Degree Hotel Sustainability
Companies like Marriott have the largest opportunity to set the standards on sustainability for the hospitality industry due to their brand recognition and wide-spread customer base. They understand this and have initiated their corporate social responsibility campaign, Serve360, in order to work toward their sustainability goals by 2025. Marriot has set applause-worthy goals in the areas of reducing environmental harm, building and operating sustainable hotels and sourcing sustainable materials in their supply chain. The company has already phased out all plastic straws and stirrers across all of its locations globally! They also provide electric vehicle charging stations as a complimentary service as most of their locations, enabling eco-conscious travelers to stay with them easily. All of their goals and metrics on impact to date are available on their website. Their commitment to environmental sustainability and their transparency of reporting their impact should serve as an example for other hotel chains who have not yet thought about how these decisions can impact their profitability in the long term. 
Seaport Hotel: Going Plastic-Free in the Office & Increasing Employee Wellness
Sustainable decisions not only need to be made in the hotel locations and guest rooms of these businesses but also behind the scenes in the company headquarters and other offices. The Seaport Hotel in Boston, known as one of "America's greenest hotels" has tackled this issue by providing employees with a solution to replace single-use plastic water bottles and seltzer cans that were generating a huge amount of waste. William Hacking, Director of Food & Beverage for the hotel, was originally looking for a way to influence healthier eating and drinking habits of Seaport Hotel employees when he found Bevi. This smart water dispenser drives workers to drink more water during the day because of the joy that comes with completely customizing your delicious beverage. Not only that but Hacking stated, "Before the Bevi machine was installed, 70% of the employees were drinking soda with their meals. Now, with the Bevi machine, more people are getting unsweetened, flavored sparkling water instead, and soda consumption has dropped to 10%." With increased hydration comes increased productivity and alertness, and a happy workforce is a successful one. Not only has the water dispenser helped with Hacking's goals to foster a more health-conscious workforce, but it has helped Seaport Hotel's hold onto their "America's greenest hotel" accolade. 
In a 2018 Global Luxury Travel Insight study, Fairmont Hotels & Resorts learned that 80% of travelers are looking for hotels that provide "experiences that are not detrimental to the local community" and that a majority of those travelers also want their hotel to implement "environmentally sustainable practices". The Fairmont hotels are very popular amongst luxury business travelers and as more millennials enter this bracket, their need for sustainable hospitality solutions as a group increases. At their St. Andrews Bay hotel, this company has decided to replace the disposable plastic water given to visitors with "specially designed refillable water bottles". Hotels can make travel easier for business clients by providing them with convenient refilling stations throughout their locations. Here is a list of the 5 best reusable workplace water bottles that the environmentally-minded business traveler is using these days. 
Takeaways
Whether you are a global conglomerate tackling long-term sustainability goals inline with the UN Sustainable Development Goals like Marriot, designing your hotels for mindfulness and eco-consciousness like 1 Hotel's, or simply trying to make everyday operations greener like the Seaport Hotel, there are so many changes the hospitality industry can make in order to do less harm to the environment, invite new customers in without losing the old, and benefit the bottom line in the long run. Check out these articles to see what other hospitality companies are doing to meet their sustainability goals:   
 One last thing! If you work for a hotel or have the ability to share Bevi with someone who does, please refer them through our website at https://www.bevi.co/referral-bevi